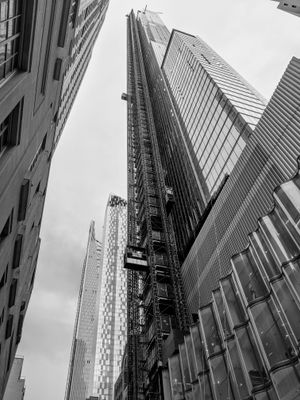 As mentioned, this album process all occurred during the pandemic. I occupied my time mostly online and "live in the bedroom" hence, would like to give a shout out to these wonderful musicians and their services.  But first I would like to dedicate this album to the two most important women in my life.  First, my wife who had to listen to all this music start to finish, day after day during lockdown.  Secondly, my sister who has supported all my music and bands since the beginning and only ever had one request, "Please don't play Naima" (arguably one of the most beautiful jazz tunes ever written by John Coltrane in dedication to his wife). Without further ado...
 I took a 6 month online course entitled First Call Bassist hosted by Vienna based bassist and pedagogue Danny Ziemann.  This really was a deep dive into critical playing, technique, listening, singing, arranging, improvising and being good bass citizens. The emphasis on clear, articulate sound and ideas really helped me prepare for this album.  I wanted to be the composer and the bassist but this is not a "bass player's" album rather, I am playing the part I like, an accompanist.  Danny helped all of us in the course build the tune from the bottom up.
 I had the pleasure of participating pre-lockdown several times with The Creative Music Studio hosted by Billy Martin (Medeski Martin & Wood) and its founders Karl Berger and Ingrid Sertso.  There is a beauty in listening and playing collectively with like minded musicians. There is a beauty in breaking down the complex to the simple and sharing.  Through a guided process one relearns how to play or at least alternate approaches to playing. I would always remember this when composing and developing my parts for this album.  This course was a wonderful balance to the classical playing I was doing.
 Did not know that I was going to need Jason's expertise when I began this project. In addition to having to learn a new DAW to record and compose I was also using Finale to create music parts and scores.  Like most non professionals I knew what I knew and had to relearn it for each new project.  But I soon realized I was going to send out professional parts to professional musicians so they had to be correct in key signature, accidentals, meter, instrument range and of course readable.  They also had to match the music files I sent, i.e. be in sync.  So whatever I thought was a good idea to do with the music files I had to ensure it was reflected in the score.  Jason is an expert in Finale a notation software program and through online lessons I was able to create the necessary music parts. 
 A quick shout out to Seth for his wonderful bass making.  I used my 5 string 5/8ths bass on this album for the acoustic bass.  It was only on this bass that I could pull off the concerto like piece Peace.
 Nick has been a friend for over 40 years and is a wonderful guitarist, composer, luthier and human being.  I have one of his Bucci electric guitars and during the lockdown we met in Trenton where I purchased a Bucci acoustic from him.  This instrument gave me inspiration as I was in a dull composition zone.  I wrote Dark Sparkle and We Used to Gather on it.  Also, when I realized I simply could not play on acoustic bass what I had written for two tunes I switched to an electric bass he built for me in the mid '80's.
 The one time we recorded in a studio was when Rupert Boyd and Laura Metcalf performed their tracks. Great location in Brooklyn, excellent staff and righteous rates.
 I was very pleased when an old acquaintance of mine from previous recording endeavors was available to mix and master the album. Marc Moss has recorded with several bands, spent time in Nashville and worked with the likes of Levon Helm among others.  Most importantly I knew I could talk and explain things easily to Marc.  There would be no communication issue.  He worked so fast he forced me to finish my bass tracks on two songs.
 Paul and I have been friends since college, I always have admired his piano playing and composition.  Recently he has been writing operas and beautiful choral works.  As important, he has a wonderful mixing ear and audio process. He was incredibly helpful with his time, insight and tricks to get a better sound for my rough mixes. I have had the pleasure of playing on several of his songs and he is top notch.
 When I had first moved to NYC I needed a bass teacher and somehow through Facebook landed with Louis.  He is a down to earth, pragmatic tough love teacher ("what did you mean by those three notes?") but so inspirational with his playing.  He taught me a lot of basic things I never really learned about bass strings, bass maintenance, bass selection and of course how to navigate the NYC subway system with a bass. Most importantly he taught me how to diagnose and correct playing problems on my own. Louis is Executive Director and bassist with Sybarite5 and head of the label Bright Shiny Things. If one would have a "bass confident" he would be mine.
100% of sales will be donated to Team for Kids, a division of New York Road Runners, which provides underserved children with after school services, events, and running programs.